Yalta ***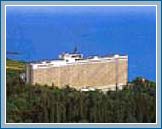 Perched on a hill above the town of Yalta, the Hotel Yalta is a large 4-star resort hotel overlooking the Black Sea with direct access to its own private beach.
Location: right on the beach, among the Crimean pines, cypresses and plane-trees in a highly picturesque corner of the Crimean coast-the ancient Massandra park. The 16-storey edifice is well integrated with the landscape. 1,5 km from the center of the city. Airport (in Simferopol)-100 km, railway station-88 km (Simferopol), seaport-1,5 km.
The hotel has 1206 rooms/2518 beds: 9 single, 1115 double, 28 triple, 54 de luxe rooms. Each room with shower, bath, WC, telephone, TV, balcony. At your service: swimming pool, with heated sea water, a sauna bath and a massage room, 3 restaurants, two cafes with banquet halls, and two bars serving ice-cream, cocktails, beer and coffee, pancake-shop. The hire service provides you with beach-chairs, inflatable matresses, flippers and diving masks, a boat, a catamaran or sea-bike, windsurfing, tennis courts and courts for table-tennis and badminton.

Address: 50 Drazhynsky St.
Yalta
[ List of Cities ] [ Info about Yalta ] [ Hotels in Yalta ] [ Location on Map ]

Kharkov Hotels

USA
7227 North 16th Street, Suite 240
Phoenix, AZ 85020
(602) 553-8178
fax (602) 468-1119

UKRAINE
Room 504 Hotel Rus
4 Hospitalnaya str.,
Kiev 01024 Ukraine
044-253-4205



Contact Us



THIS PROGRAM IS THE SOLE PROPERTY OF KHARKOV HOTELS AND MAY NOT BE COPIED IN ANY WAY OR FORM WITHOUT EXPRESS PERMISSION FROM KHARKOV HOTELS.

© COPYRIGHT 1996-2019 - ALL RIGHTS RESERVED.